Teaching writing is my absolute passion. It's my favorite subject to teach and my students love it too. My enthusiasm and love for writing really rubs off on them. Even my most reluctant writers will say at some point in the year that they love writing. That's why my students named me the "writing fairy."
 Writing Like Writers is the name of the Writer's Workshop in my classroom that encourages all students to think of themselves as writers. We begin the year off with creating the rules, routines and expectations for our workshop that establishes an environment where writers feel safe and comfortable writing about topics they want to write about. The key to getting students to write is giving them choices about what to write about. Help them to discover their passions to share with others. All children have something they are passionate about. They all have stories to tell that are meaningful to them. When you help them find those stories within themselves you will find that your students just can't stop writing.
 

 Elements of the Writer's Workshop Process

Students determine the topics and form their writing.

Students keep a writer's journal to organize their "in progress" writing.

Class members are at different points in their writing. Some may be prewriting while others are at the editing stage.

The teacher's role is that of the facilitator: monitoring, encouraging, conferencing and providing help as needed, teaching the writer, not the writing.

Students peer conference with each other for the purpose of improving their writing.

Students have time to orally share their writing.

Teacher use a "status of the class" chart to keep track of where students are in the writing process and when a conference is needed.

The teacher meets with individual students to conference about their writing throughout the process.

The teacher may meet with a small group to teach a skill.
 

Organizing the Classroom:
Set the tone for the classroom environment for writing

Model and establish exact routines and procedures

Establish locations in the classroom for materials and the components of writer's workshop
The Writing Center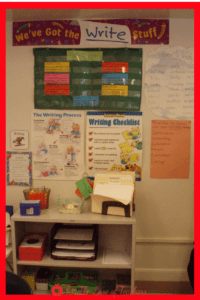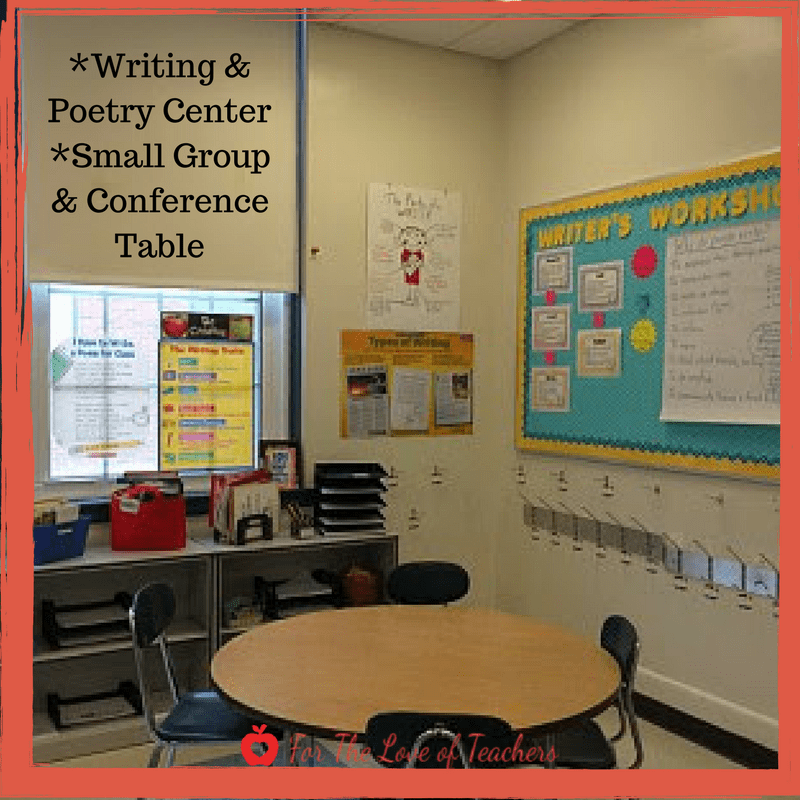 The writing center is stocked with all materials and supplies needed for Writer's Workshop: pencils, crayons, markers, paper (lined, letter templates, drawing paper, construction paper, etc.), writing prompts, anchor charts, writing activities, books about writing and mentor texts, Make a Book Station and more!

A Snapshot:
Mini Lesson (10-15 minutes) A short lesson focused on a single topic that teaches a single writing concept. You do not need to give a mini lesson each day; 2-3 times a week is fine. (Location: large meeting area for whole group lesson)

Status of the Class (2-5 minutes) A quick way of finding out what each student is working on and where they are in the writing process.

Writing time (20-30 minutes) Students write. Teacher writes with students and/or conferences with individual students or small groups. (Location: At student desks)

Sharing (5-10 minutes) Writers read what they have written and get feedback from their peers. (Locations: At student desks or in large meeting area)
 The Mini lesson
Brevity

: Mini lessons are short, usually 10-15 minutes so that the majority of time is available for students to write and for teachers to conference with students. Keep it brief!

Focus

: Each mini lesson covers one thing, one defined topic. Keep it focused!

Authenticity

:  Mini lessons are based on real things that your writers really need to know. Keep it real!

(Teaching That Makes Sense, Inc. Peha, S)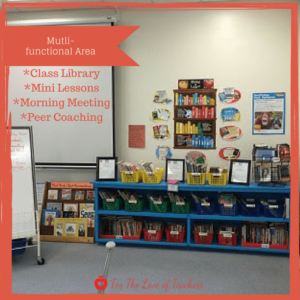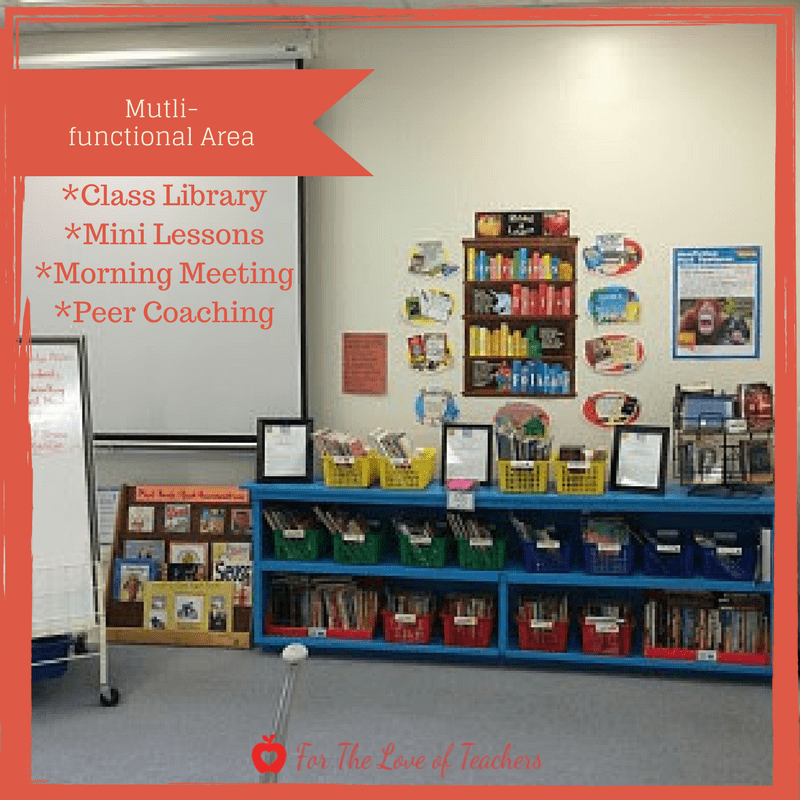 Things to Teach in Mini Lessons:
Techniques

 – All the things writers know how to do with both text and illustration to make the writing good. (Craft of the writing) (Examples- Word choice, sentence structure, punctuation, paragraphs, text structures, genre specifics, etc.)
Strategies

– Offers students possibilities for how to go about doing something while they are in the process of writing. Strategies give the writer suggestions to make the writing process more efficient. (Examples-Teach a student to read aloud their text and listen for where the punctuation should go or talk an idea through with a friend before writing about it.)
Understandings

 – Important things to know about how writing happens and they represent the big ideas underneath much of what is taught. (Examples-Writing exists in many different forms and genres, writers think about their audience.)
Conventions

 -Ways that written language generally goes down on paper (Examples-Formation of contractions, capitalization, punctuation, spelling.)
Questions

– Lines of thinking that are useful for writers to follow. (Examples- "How do I know when I need a peer conferences?" or "How do I know if my writing is finished?")
Units of Study:
Extended series of mini lessons happening over a period of days or weeks

Lessons focused in depth on a big topic on interest.

Ex. Genre study or some study on a particular skill (ex. punctuation)
Ray, K & Cleveland, L. (2004) About the Authors: Writing Workshop with Our Youngest Writers.
 Status of the Class:
Allows teachers to know the status of each student's progress at a given point of time. Ex. Students place their name card onto the chart (pocket chart, dry erase board, etc.) to indicate where they are in the writing process.
 
 Writing Time

Student's Role:
•    Writes for 20-30 minutes
•    Peer conference (students meet with a writing coach)
•    Conference with teacher
Teacher's Role:
•    Write with students 
•    Conference with students
•    Small group mini lesson
Conferring- Meet with individual students to teach the writer, not the writing
Have procedures and expectations in place


Focus on one thing

Keep it brief, check back with student
What is My Role During Conference Time?
Everyone's Role:
•      Respect the student and teacher who are conferring
•      Use the "Ask 3 Before Me" Rule
•      Expect a brief, 5- 10 minute conference
Teacher's Role:
•      Review student's "Writing Conference Plan" 
•      Listen to the writing
•      Think about how to help the writer, not just the writing
•      Offer positive comments (2 stars and a wish)
•      Ask questions that teach and help the child to think more deeply
•      Focus on one thing
•      Suggest a strategy you've already taught
•      Encourage the students to try something you suggested
•      Make notes 
Student's Role:
•      Come with a completed "Writing Conference Plan"
•      Read the writing aloud
•      Identify  what you want to work on 
•      Listen to the teachers comments and suggestions
•      Think, plan and return to your piece to revise
 Basic Conference Questions:
What are you working on?

Can you read me some of what you've got?

How is it coming along? or Is there anything I can help you with?

What are you going to do next?

 (Teaching That Makes Sense, Inc. Peha, S)

 

Peers could confer with each other too.

Train students to become peer writing coaches.
 Sharing:
Gives writers a chance to address a real audience and get valuable feedback


It's voluntary

Author asks to listen for or help with something specific

Students give kind, helpful and specific feedback or ask thoughtful questions

Ways to Share:
Whole Class: My favorite! Gives authors their best chance for feedback. Listen to a few kids each day.

Small Group: Time efficient, but is sometimes hard to manage but gives students a chance to get feedback from multiple peers. 

Partner: With only one person in the audience, the feedback the writer receives is often limited. Have partners meet with several partners to get more feedback. My students peer conference with a writing coach(es) during writer's workshop.

Display Student Work
Need help introducing Writer's Workshop? Check out this resource to help you get started.
Product Description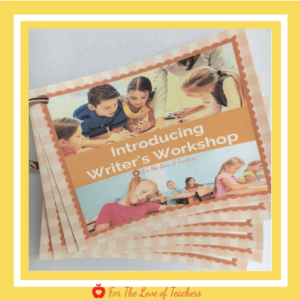 Introducing Writer's Workshop takes time and organization. Setting the stage, tone and physical space of the classroom is important when launching. Modeling and teaching routines and procedures to your students sets the expectations for your Writer's Workshop from the start. Use this script to introduce Writer's Workshop in your classroom.
This product includes:
An introduction to Writer's Workshop with tips for setting the stage, tone and physical space.
One teacher led modeling script with 2 options to print (one sided or two sided)
Easy cut out templates to hole punch and attach to a binder ring. Get it here!


Here are some of my favorite

FREE

resources that I have created or found on the web to use in my classroom to launch my writer's workshop. Amazing teachers created some of these resources and other teachers benefit them. Give them a try!
Personal Narrative Unit:
Checklists:

Check out these lessons for Teaching the Six Traits in Informational Writing- Ideas. These lessons are part of a bundle which includes 18 lessons plans that teach the six traits of writing (ideas, organization, voice, sentence fluency, word choice, and conventions) and is intended for grades K-5 within informational writing. These lesson plans were developed as a resource to support teachers in teaching the six traits using the mentor texts and lesson ideas that were expanded upon from the book

The Writing Thief

, by Ruth Culham, which is a trait-based strategy to assess and teach writing. All ideas and verbage from

The Writing Thief

are clearly cited directly back to the book.


Each trait comes with three lesson plans for grades K-1, 2-3, 4-5. The lessons are designed for differentiation so you could use the lessons below, at or above the grade level you teach. You could teach the 'at grade level' lesson to your whole group, enrich or accelerate using the 'above grade level' lessons in small groups and use the 'below grade level' lessons for your struggling readers and writers in small groups as well.


This product includes:


A list of mentor texts and18 lesson plans:
Grades K-1: Ideas-Sparking Ideas
Grades 2-3: Ideas- Getting Focused
Grades 4-5: Ideas- Choosing a Topic
Grades K-1: Ending With a Sense of Closure
Grades 2-3: Organization:
Creating the Lead
Grades 4-5: Organization: Developing the Body
Grades K-1: Voice: Creating Voice
Grades 2-3: Voice: Establishing a Tone
Grades 4-5: Voice: Conveying The Purpose
Grades K-1: Sentence Fluency: Breaking the "Rules" to Create Fluency
Grades 2-3: Sentence Fluency: Crafting Well Built Sentences
Grades 4-5: Sentence Fluency: Varying Sentence Patterns
Grades K-1: Word Choice: Using Creative Words and Phrases
Grades 2-3: Word Choice: Using Language Effectively
Grades 4-5: Word Choice: Using Strong Action Words
Grades K-1: Conventions: Checking Spelling
Grades 2-3: Conventions: Using Commas Correctly
Grades 4-5: Conventions: Using Capitalization Correctly 
Get the big bundle here.
Want to learn more about organizing and managing Writer's Workshop?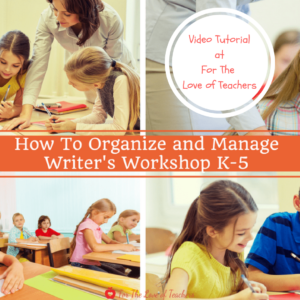 Check out my video tutorial here.
Join the Writer's Workshop 

F

orum and look for blog posts about Writer's Workshop. Check out the Resource page for other resources for an effective Writer's workshop.