I am just as excited to start off the school year as the kids are. I spend a lot of time planning back to school activities to build my classroom community of learners and friends.  As a Responsive Classroom teacher, I know that students can not and will not learn if the classroom community is not ready for learning. So I like to start off the year with these must do activities that help my students feel comfortable with each other and with myself during the first week of school.
Day 1: Back To School Name Tent
Day 1 is a CRAZY as students rush into class with excitement anticipating to meet their classmates and teacher. There are supplies to collect and sort through, transportation lists to confirm and review and so many things to do in one single school day. Meeting and remembering the all of your students names could be difficult on the first day and it's not easy for the kids either, especially if you have 2 or more Kaitlynn's, spelled differently I may add, in one classroom. So making back to school name tents is a must on the first day, plus it's a fun and relaxing activity. My students sit in groups while working. They may chat with their new classmates if they like while they work. I find that they do a lot of thinking and reflecting about their name tag and are looking at others in their groups for creative ideas or assurance that they are doing it "right."On one side of the tent the kids make a name acrostic and on the other side of the tent each student writes 3 facts about them and one fib, which I then include in my morning meeting activity, Fact or Fiction, the rest of the school week. The tents are displayed on desk tops for the next couple weeks of school.
Want to dive right into STEM on day 1? Give students this Name Tag Challenge.

Challenge: Create a name tag that meets the criteria below. (Modify the criteria for different grade levels).
Criteria: 
Your name tag must hold a pencil.

Your name tag must be at least 6 inches long.

Your name tag must stand up on its own.

Your name tag must clearly show your name.

Your name tag must clearly show 2 things about yourself (think favorites!)
Materials:
1 piece of paper (construction paper or cardstock)

1 pipe cleaner

tape

hole punch

markers/crayons

stickers

ruler

1 pencil
This activity is a lot of fun for the kids. You will immediately begin to tell who can do this with ease, who gets frustrated, who redesigns over and over again and who just gives up! It definitely helped me and my students to remember student names on day 1, plus I was able to  informally assess my students early on. As a class we do a classroom museum walk when all are finished and give thoughtful comments or suggestions to each student's work.
Day 2: What I Wish My Teacher Knew
I first heard about this idea on the news. A teacher did this activity in the classroom and was surprised by the responses she received. I was completely touched by this story and knew I had to try it. So I did this with my third grade students. I gave my students one index card and told them to share with me one thing that they wanted me to know about them. I said that it could be as simple or as general as their favorite color, hobby, or sport, something they like or enjoy or it could be something more personal, a feeling or a thought.  I put my own spin on this activity by modeling it first by giving each student an index card with one thing I wanted them to know about me. It was easier than I thought about coming up with 23 facts about my self than I thought. 😉 After each student received a card from me with a personal fact their eyes lit up. They loved receiving a fun fact about their teacher and eagerly began writing a fun fact about themselves for me. I was completely blown away by some of the responses too. Some were very general like, "I love animals." "I have 3 cats." "My favorite color is sky blue." But then some of them were more personal like, "My mom and dad just got divorced." "I can not buy my school supplies yet." "I have no pencils at home." "My mom works late." This activity tells me so much about my students and how they were feeling on the first day of school. Some were feeling happy and excited and some were feeling a little bit anxious and scared.  This is an activity that I NEVER skip because I know it helps me and my students connect and I hear get to hear all of their voices.
I came across a book about this too. Can't wait to read it!
Day 3: Writer's I
This is one of my favorite activities.  First students brainstorms as many words that they can about themselves. I model it first with my own. Then students fill in the Letter I Template with the words from their brainstorming list. This makes a really awesome display of student work that I keep up for Open House for the parents to see.
Day 4: All About Me Project
By the end of week 1 I always have my students work on an All About Me Project. I have done All About Me books, banners, but I really like these posters. You may want to give these posters earlier in the week or give 2 days to complete. I introduce this project with my own completed poster and let the kids work independent on theirs. They come out really awesome. I leave these posters up on display for the first month of school or so. The kids love seeing each other's posters and the parents do too.
Day 5: Hope and Dreams
This activity is part of the Responsive Classroom approach. I do this activity after getting to know my students a bit and after they get to know each other. We begin a discussion along with some brainstorming activities about what our hopes and dreams might be for the year. I encourage these hopes and dreams to be school related because it will be ALL of us that help contribute to students reaching their hopes and dreams in our classroom. This will lead further into creating our class rules that will establish an environment of learning so we could all reach our hopes and dreams. I use a template as shown with lines in it.
If you are not a Responsive Classroom teacher but want to learn more about it and need some support planning back to school activities, then I highly recommend the book, The First 6 Weeks of School. It's absolutely my go to for planning the first 6 weeks of school. It's easy to use and is teacher friendly with so many great ideas. I'll be blogging about Responsive Classroom a lot more for the beginning of the school year so please visit the blog at For The Love of Teachers for Responsive Classroom tips and tricks!
Got some great back to school activities and ideas to share? Be sure to post in the forums and collaborate with other AMAZING teachers!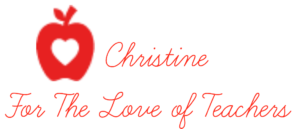 Christine Weis is a teacher, professional development instructor, mom of two boys and founder of For The Love of Teachers, a website and blog dedicated to teacher collaboration, professional growth and useful resources.

Latest posts by Christine Weis (see all)
Please follow and like For The Love of Teachers