Read Alouds are so important for children of all ages. There are so many benefits to reading aloud to children.
Read Alouds:
Improve comprehension

Improve and develop active listening skills

Increases vocabulary

Models use of language, expression and fluency

Promote discussions about themes and big ideas

Enhance critical thinking and questioning

Build classroom community

Nurture a love for reading


Mr. Peabody's Apples is Madonna's 2nd picture book. Madonna "dedicates Mr. Peabody's Apples to teachers everywhere." This is the freebie I received from Scholastic many years ago and it is one of my favorite must read back to school books ever.
Mr. Peabody's Apples takes place in 1949 in Happville, USA. Mr. Peabody is the beloved elementary school teacher and baseball coach, who one day finds himself ostracized when rumors spread through the small town. Mr. Peabody silences the gossip with an unforgettable and poignant lesson about how we must choose our words carefully to avoid causing harm to others. It also illustrates symbolically how difficult it is to "fix" the harm our words does to ones reputation. Truly a powerful message!
Need lessons to go along with the book? Check out these lessons and activities at Teachers Pay Teachers.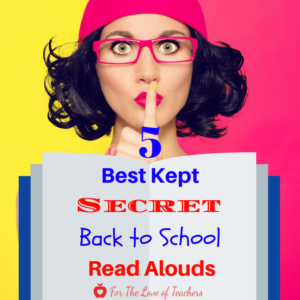 September Novel Read Aloud

In a world where bullying among young people is an epidemic, this is a refreshing new narrative full of heart and hope. R.J. Palacio has called her debut novel "a meditation on kindness" —indeed, every reader will come away with a greater appreciation for the simple courage of friendship and KINDNESS. Soon to be a major motion picture starring Julia Roberts, Owen Wilson and Jacob Tremblay. Can't wait!!!
Need lessons to go with this book? Check out these amazing lessons and activities at Teachers Pay Teachers.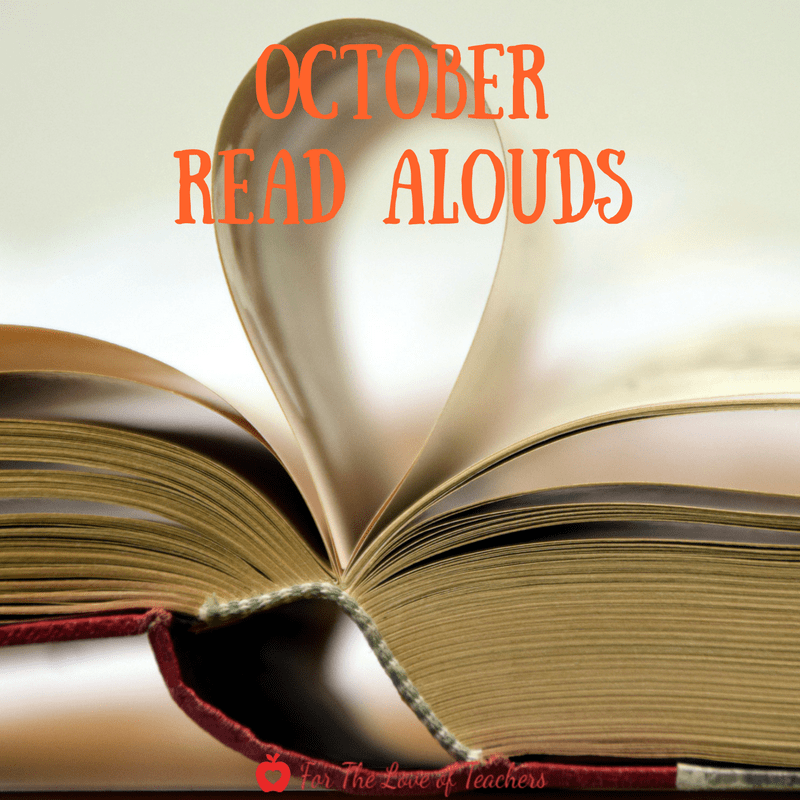 This book will have you and your students laughing out loud. This hilarious book is for both children and adults. My favorite part is the throwback to the days of plastic costumes sold in a box with a rubber band attached by a tiny staple to the mask.  Definitely brings adults back to the good old days of Halloween but gives kids a good laugh to the rules and purpose of Halloween…must get candy!!
Sneak peek into the beginning:
So the first time you hear the concept of Halloween when you're a kid, your brain can't even understand it. "What is this? What did you say? Someone's giving out candy? Who's giving out candy? EVERYONE WE KNOW is giving out candy? I gotta be a part of this!"
You got to read this fun filled book!
October Novel Read Aloud

This is truly a fantastic book to read, especially at the beginning of the school year as it covers themes such as love, friendship and building relationships.
Book Summary: This is a classic tale by Newbery Medalist Kate DiCamillo that tells the story of ten-year-old India Opal Buloni. One summer day she goes down to the local supermarket for some groceries – and comes home with a dog. But Winn-Dixie is no ordinary dog. It's because of Winn-Dixie that Opal begins to make friends. And it's because of Winn-Dixie that she finally dares to ask her father about her mother, who left when Opal was three. In fact, as Opal admits, just about everything that happens that summer is because of Winn-Dixie. Featuring a new cover illustration by E. B. Lewis.
Need lessons to go with this book? Check out these amazing lessons and activities at Teachers Pay Teachers.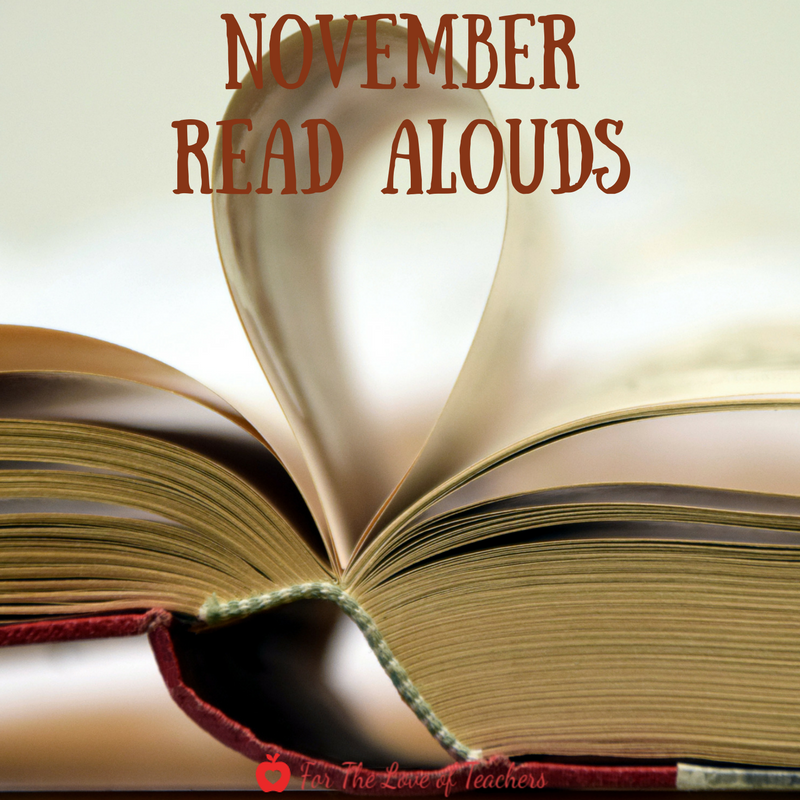 Books about giving thanks!
This month's read alouds are teacher favorites!!!

Oh how I love this book, especially on audio as Liam Neeson reads it aloud. The book is full of magical illustrations and is a story about seeing and believing in the magic of Christmas. Watch the movie too as a bonus! Such beautiful animation and music! You will not be disappointed.

This classic is a favorite among adults and children, but this one is filled with beautiful illustrations and movement that make my students, as well as my own kids, want to read over and over again. Truly a magical story!

Super cute story in rhyme about a moose preparing for Christmas. All kids just love this book and think it's hilarious! Who wouldn't…look at the cover!?

This book is just hilarious! Your kiddos will love the illustrations as well as the cute little greedy pug. Definitely a LOL kind of book. Just look at that face?!

Who doesn't love the story about the Grinch whose heart grows three times as large? This heartwarming story about the effects of the Christmas spirit will grow even the coldest and smallest of hearts. A favorite for adults and children!

This book is part of a best selling series. Book Summary: It's the day after Thanksgiving, and Clayton and Desmond feel the chill in the air. The cool weather makes them think of Christmas . . . and Christmas makes them think of Christmas trees! Who'll find the biggest one? (Amazon.com)

Who isn't a fan of  Tomie dePaola's books?!
Book summary: Left behind by the circus in an impoverished Italian town, Jingle, a little clown, and his baby animals come up with an idea to make Christmas Eve special for all the villagers by putting on their own circus performance. (Amazon.com)

Book summary: In this beloved classic picture book, Tomie dePaola retells and illustrates an Italian Christmas folk tale, breathing warmth and humanity into the character of the lonely Old Befana and her endless search for the Christ Child. (Amazon.com)

Book Summary: Turkey needs Santa's help so he won't be eaten for Christmas dinner. Turkey is in trouble. Again. He made it through Thanksgiving without becoming a turkey dinner, but now it's almost Christmas, and guess what's on the menu? Turkey decides the only thing to do is to ask Santa for help. He sets off for the North Pole, but getting in to see Santa at Christmastime isn't as easy as Turkey expected. It's going to take all his ideas—and his clever disguises—to find a way into Santa's house. After many hilarious attempts, Turkey comes up with the perfect disguise, and Santa has the perfect solution. (Amazon.com)
And For your littlest reader…

Book Summary: Dinosaur is getting ready for Santa! He tackles many challenges–decorating, making presents for Mom and Dad, trying not to be naughty–and defeats each one with his trademark ROAR! But on Christmas Eve, when he hears some rustling downstairs, he can't resist a peek. Will our feisty red friend meet his match in the man in the red suit? (Amazon.com)
This book is beautifully written and has vibrant paintings that tell the story of Hanukkah and its historical significance.  It also includes a latke recipe and directions for the dreidel game.

Book Summary: It's the night before the eight-day celebration of Hanukkah begins, and everyone is excited! Each evening, the family gathers to light the candles and share holiday traditions such as playing dreidel, eating latkes, and exchanging gifts. (Amazon.com)

Have you read this book series? This is the 4th book in the series and the illustrations are absolutely beautiful! The story is written in rhyme and tells the story of the busy lives snowmen lead. Hidden pictures on every page make children want to read this book over and over again! Your kiddos will love it!

This is an easy read to understand the true meaning of Kwanzaa. Book Summary: A vibrant picture book brings to life the Kwanzaa holiday during the last week of December as Grandma brings special food, Grandpa lights the candles, and the whole family celebrates their heritage. (Amazon.com)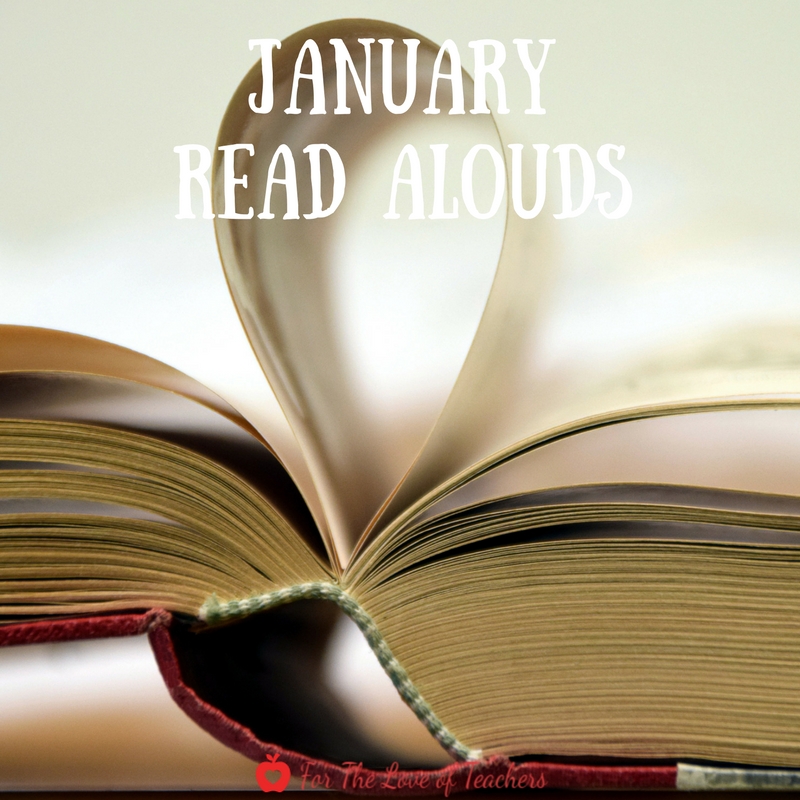 Who doesn't love a snow day!? This book is a bestseller plus a Caldecott winner about a busy little boy and his adventures in the city on a snowy day.

A best selling classic for children written by Jan Brett with an engaging plot that brings animals to life with warmth and humor, with illustrations that are true to the Ukrainian tradition from which the story comes. You may also want to check out another of Brett's books…

Hedgie the hedgehog discovers the wisdom of the adage "Don't go poking your nose where it doesn't belong" only after curiosity gets this prickly fellow in a pickle. When Lisa's red-and-white woolen stocking blows off the clothesline, Hedgie finds it and sticks his nose inside, only to discover his prickles prevent him from pulling out of it. Soon all the farm animals are coming around to chuckle at silly Hedgie's stocking cap. But in the end, nimble-witted Hedgie gets the last laugh (Amazon.com Review)

Start off the New Year right with an excellent read aloud that promotes a growth mindset and teaches children of all ages (adults too) to  have courage, dream, believe, inspire and be inspired. A must read!
With beautiful illustrations this biography tells the true story of a Vermont farm boy, Wilson Bentley, who was mesmerized by snowflakes.
Book Summary: (Amazon.com): Sweet story about children and the snow. Very short book–great for bed time.Ali jumps into a BIG pile of snow before she realizes how deep it really is! And when her sister and her dad try to get her out, things get worse and worse and worse….



Who doesn't love Pete The Cat? He's the grooviest cat we know and love and he's learning how to LOVE Valentine's Day.

Silly Tilly is trying to remember what day it is but gets side tracked when doing so, like many of us do. Silly Tilly eventually finds out what day it is and is very tickled about how she went about it.

Book Summary (Amazon.com): Love Monster is a slightly hairy monster trying to fit in with the cuddly residents of Cutesville. But as it turns out, it's hard to fit in with the cute and the fluffy when you're a googly-eyed monster. And so, Love Monster sets out to find someone who will love him just the way he is. His journey is not easy―he looks high, low, and even middle-ish. But as he soon finds out, in the blink of a googly eye, love can find you when you least expect it.

Book Summary (Amazon.com): It's Valentine's Day and Splat has a special valentine for a certain someone in his class. Her name is Kitten, and Splat likes her even more than fish sticks and ice cream. But Kitten doesn't seem to like him at all. And then there's Splat's rival, Spike, who also likes Kitten. Will Splat's heartfelt valentine win Kitten's paw in the end?

Book Summary (Amazon.com): There's so much more to being a groundhog than just putting on a show once a year, and Groundhog has decided it's time to tell the world the Hog truth. With the help of a few of his fans, Groundhog is ready to tell everything about himself, from how loud he can whistle (loud), to how fast he can run (not fast), to how many things he uses his teeth for (a lot). Groundhog may be full of himself, but chances are good that, by the end of this book, you'll agree he's pretty wonderful!

This is a hilarious book and is more fun than any presidential election that you can imagine! Your kiddos will love to read this book and look at its illustrations over and over again.

Who doesn't love all things pink? But this girl takes loving pink a little too far! Great books in this series for your littles.
This page contains affiliate links. Any of these books could be purchased on Amazon.com.