I am fortunate to be the parent of a very curious and smart 6 year old boy who asks excellent questions and does very well in school. His teachers describe him as a role model to others, a leader, focused and attentive and a kind and caring friend.  At home, this same child flexes his muscles in a much different way, seeking any type of attention, whether positive or negative, challenging rules and expectations. As a teacher I have heard about this from parents of students in my class telling tell me that my "perfect" student was much different at home. So now having a strong willed child of my own, I became curious in learning more about this.
Because I am a teacher, some may think I have the answers to "fixing" any type of behavior. And in the classroom I definitely have had my share of strong willed children. So I did some research for two reasons, one was from a parent standpoint to learn more about strong willed children so I could better understand this little human that is a challenge, and the second was from a teacher standpoint to learn how I could better support and teach strong willed children in my classroom.
On one very recent summer day, when I just about had enough and was at my wits end, I came across this fantastic article that helped changed my mindset, Strong Willed Children; How to Bend Them, Not Break Them!! This article immediately caught my attention because one thing I know I don't ever want to do is to break the spirit of a child. Children come in all different shapes and forms and it is my job as a teacher and a parent, to help mold and educate all children into the best possible person they can be. And I know breaking them is not the answer to teaching them. I love the ideas in this article. It says that strong willed children are known to be disruptive or stubborn. This may appear to be true but sometimes I have to laugh under my breath because very often the things that strong willed children "fight" for are completely logical. At times strong willed children can convince others to do something or have something done their way because it makes perfect sense. As I reflected as a parent, I realized that many of the things my own child was challenging me about resulted in a power struggle. When I heard myself using phrases like, "Because I said so!" or "Because I am the Mom (or the teacher!)," I knew something had to change.
According to the article, strong willed children tend to be difficult to teach and are disruptive. They may be labeled with Oppositional Defiant Disorder (ODD), or Attention Deficit Hyperactivity Disorder (ADHD). However it goes on to say that strong willed children will become excellent teens and world changing leaders. So how do teachers support and teach strong willed children without breaking them?
The 3 Bs to Teaching Strong Willed Children

Mold and educate strong willed children by listening. Listen to and respect their grand ideas and opinions. Encourage them to elaborate on their thoughts with other students. In the classroom, set clear rules, routines, expectations and consequences. Be flexible but draw a line to demonstrate what is acceptable and what's unacceptable in the classroom. Avoid power struggles that break down the strong willed child.

Help strong willed children build upon on their ideas. Allow these students to lead through projects. Encourage students to take ownership of their work and actions. Engage them in responsibilities and tasks within their own passions and interests. Allow them to lead others by example to do great things. Give strong willed students opportunities to learn, fail and reflect. Making mistakes is part of the learning process and a strong willed child who fails is sure to get right back up to take another shot at it. Support their failures and celebrate their accomplishments.

Believe that all children, especially strong willed children, can and will become leaders that will change the world. These students have the potential to achieve more than we could ever foresee. We are teaching the future leaders, educators, parents, and citizens. Believe that they are not stubborn and are not acting in a way to just get what they want. Believe that they have a passion or a mission to make something impossible become possible. Believing in all children helps them to live up to their greatest potential.
Now when I think about the parent and teacher that I want to be, and think about my own children, as well as the ones that I teach, I feel confident that we can bend, build and believe in strong willed children to make them the best that they could be.
What are your personal or professional experiences in parenting or teaching strong willed children? Please share so we could learn from each other.
Be sure to visit For The Love of Teachers, and go to the forums to collaborate with others.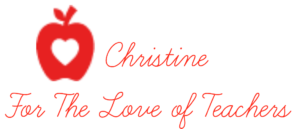 Christine Weis is a teacher, professional development instructor, mom of two boys and founder of For The Love of Teachers, a website and blog dedicated to teacher collaboration, professional growth and useful resources.

Latest posts by Christine Weis (see all)
Please follow and like For The Love of Teachers