Remember when you were a new teacher? You had that gleam in your eyes and pep in your step.  You were excited to get into a classroom and jump right into teaching. You had energy, drive and passion. You couldn't wait to try all of your new ideas and share them with others. I remember my first year of teaching like it was just yesterday and that was 15 years ago. I was so happy to get my first job in a public school in Brooklyn, NY teaching second grade. I got the job right on the spot during the interview and couldn't be more thrilled to begin the next school year. I read every book about teaching 2nd grade, planned all of my activities, brought bags and bags of work home every night and stayed up until 10:00 each night planning, preparing and grading. I was fortunate enough to have veteran teachers welcome me and take me under their wing.
But when you are a teacher for 15 years and work with the same colleagues year after year, it's exciting to see a different face, especially a NEW teacher face. Working with a new teacher is an opportunity to learn something or think of something in a different way. There are so many things that veteran teachers could learn from new teachers. It's one way that I consider growing professionally and keeping a growth mindset. So it's time that you find a new teacher BFF and here's why!
New Teachers Bring New Things To The Team
New teachers come out of college with a plethora of fresh ideas. They bring things to the team that perhaps other member wouldn't. Their thoughts and ideas are crisp and clear and are ready to roll right on out. I chuckle at this because my thoughts overlap, and are crowded and fuzzy. I find it refreshing to collaborate with someone who has fresh ideas, and helps me work through my ideas as well as revitalize some of my older ones. So embrace the new teacher on your grade and bounce some ideas off of each other. You may be surprised that you just found your new teacher BFF!
They Are Passionate
New teachers are passionate about teaching. They have energy, life and stamina. They are ready to take on the world. They are positive and aren't tainted by the challenging school system or by the "Debbie Downers," plus they are not exhausted by the teacher workload (yet!). Chances are this newbie's positivity will spread to you and will lift you up when you need it most. They are bright eyed and bushy tailed, as many of them stroll into work early with little or no morning responsibilities, some having no kids of their own yet! 😉 So you might find that your new BFF brings you an early cup of coffee, or has those copies you just didn't get to for your first lesson in hand. Yay! 🙂
They are Tech Savvy
Those millennials are the ones who know all of the latest technology. They will help teach veteran teachers the simplest techy things, to the more complicated technology with the latest apps, software and Google classroom. I love learning new things from innovative teachers, especially when it helps me work smarter, not harder!
They Want to Learn
New teachers want to be learn from veteran teachers and want to be mentored. They observe other teachers with eyes wide open, taking it all in for the first time while absorbing other teacher's techniques, skills and strategies from classroom management, instruction and assessment. Teachers know that you do not come out of college with a handbook or prepared for the day to day challenges of managing a classroom so mentoring is critical for new teachers. I have been a mentor to new teachers and have enjoyed it. I have built strong relationships with new teachers I mentored and the learning definitely goes both ways. It's a win-win!
So when you go back to school for the next year, scope out the place for the "new" teachers. Find one and make them your new teacher BFF! You won't regret it!
Are you a new teacher? I'd love to collaborate more with you.
Be sure to visit For The Love of Teachers, and go to the "growing" forums to collaborate with others. Share some ideas and get some ideas from other amazing teachers. See you there!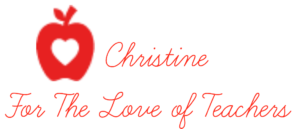 Christine Weis is a teacher, professional development instructor, mom of two boys and founder of For The Love of Teachers, a website and blog dedicated to teacher collaboration, professional growth and useful resources.

Latest posts by Christine Weis (see all)
Please follow and like For The Love of Teachers